Medium pouch
Tradeable?
No
Equipable?
No
Stackable?
No
High Alch
180 coins
Low Alch
120 coins
Destroy
Drop
Store price
Not sold
Weight
1 kg
Examine
A medium-sized pouch used for storing essence.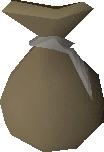 Medium pouches are bags that can hold six of rune essence or pure essence for use in the Runecrafting skill. This item requires level 25 Runecrafting to use. This item is dropped by Abyssal monsters.
This is the third best Runecrafting pouch that can be obtained.
Essence contained in the pouch when it's dropped will be lost. A message will pop up and tell the player: "The contents of the pouch fell out as you dropped it!".
Dropping monsters
Edit
Runecrafting altars

 Air •  Mind •  Water •  Earth •  Fire •  Body •  Cosmic •  Chaos •  Astral •  Nature •  Law •  Death

Pouches

 Small pouch •  Medium pouch •  Large pouch •  Giant pouch
Ad blocker interference detected!
Wikia is a free-to-use site that makes money from advertising. We have a modified experience for viewers using ad blockers

Wikia is not accessible if you've made further modifications. Remove the custom ad blocker rule(s) and the page will load as expected.