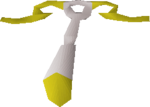 The Armadyl crossbow requires a Ranged level of 70 to wield and can fire bolts up to and including rune. The Armadyl crossbow is dropped by Commander Zilyana in the God Wars Dungeon. It is the best crossbow in Divine Reality, providing a higher Ranged attack bonus and a slightly longer range than the rune crossbow. It is also the only crossbow with a Prayer bonus.
Bonuses
Hover over image for type

A player wielding an Armadyl crossbow.
 Attack bonus
0
0
0
0
+100
 Defence bonus
0
0
0
0
0
Other bonuses
Slot

0
0
0%
+1
Ad blocker interference detected!
Wikia is a free-to-use site that makes money from advertising. We have a modified experience for viewers using ad blockers

Wikia is not accessible if you've made further modifications. Remove the custom ad blocker rule(s) and the page will load as expected.